Concerns that disaster may aggravate Haiti's current cholera epidemic, allow emergence of new public health threats
(PHOTO CAPTION: Senator Markey delivers aid with USAID and Joint Task Force officials to Dame Marie, a severely hit community at the edge of the Western Claw in Haiti)
Washington (October 12, 2016) – Senator Edward J. Markey (D-Mass.), top Democrat on the U.S. Senate Subcommittee on Africa and Global Health Policy of the Foreign Relations Committee, traveled this week to Haiti to observe the humanitarian response to Hurricane Matthew and assess any public health conditions, including the possible aggravation of Haiti's cholera epidemic. The cholera epidemic started in Haiti in 2010 after United Nations (UN) Peacekeeping Forces introduced cholera when deployed there for earthquake relief. More than 779,212 cholera cases and 9,145 deaths are a direct result of the UN's presence in Haiti.
This week in Haiti, Senator Markey met with patients, doctors and other health providers at a cholera treatment center in Port-au-Prince and helped deliver aid to Dame Marie, a severely hit community at the edge of the Western Claw in Haiti. Senator Markey delivered humanitarian relief with Joint Task Force Commander Rear Admiral Cedric Pringle and United States Agency for International Development (USAID) officials. Senator Markey also met with Haiti Prime Minister Enex J. Jean-Charles and Minister of Public Health Daphnée Benoit Delsoin, as well as Provisional President Jocelerme Privert.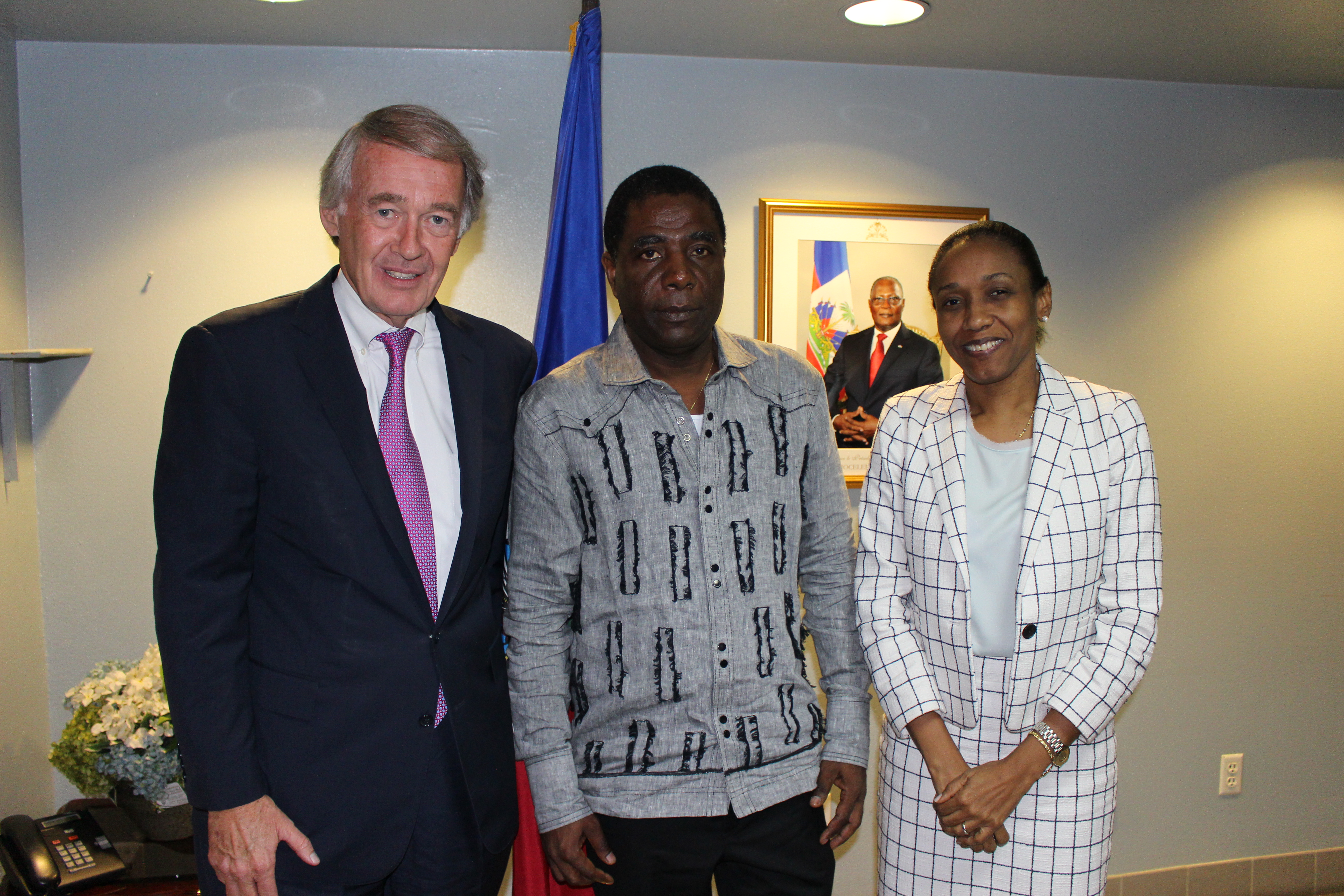 (PHOTO CAPTION, from left to right: Senator Markey, Haiti Prime Minister Enex J. Jean-Charles and Minister of Public Health Daphnée Benoit Delsoin; Senator Markey at cholera treatment center in Port-au-Prince, Haiti, October 10, 2016)
"I have grave concerns that the cholera epidemic that has ravaged Haiti will only be made catastrophic in the wake of Hurricane Matthew," said Senator Markey. "We need to immediately accelerate relief to isolated areas of Haiti, including provision of basic food, clean drinking water and medicine. But we must also mobilize to stop the spread of cholera and address any new public health threats that emerge. This includes long-term development of infrastructure to provide safe drinking water, safely manage and dispose of wastewater through effective public sanitation systems, and ensure adequate electrical energy to make such systems feasible. We must help Haiti rebuild and get communities back on their feet as quickly as possible."
Yesterday, Senator Markey led a letter to Samantha Power, United States Ambassador to the United Nations, seeking clarification about the official position of the United States in relation to the cholera epidemic in Haiti, calling on the UN to accept full responsibility for the cholera outbreak and begin the process of resolving claims for victims. Other Senators signing the letter include Patrick Leahy (D-Vt.), Marco Rubio (R-Fla.) and Robert Menendez (D-N.J.).
"The recent devastation of Hurricane Matthew has only amplified Haiti's humanitarian crisis and provided a situation that is likely to intensify the impacts of cholera in the country," write the Senators in the letter. "It is imperative, now more than ever, to develop a focused effort on eradicating disease transmission, and provide an expeditious path to material and financial assistance for cholera victims and their families."
A copy of the letter to the Senators' letter to the UN can be found HERE.
Earlier this year, Senator Markey called on the United Nations to publicly apologize for their role in the epidemic andprovide material resources to end the threat of cholera in Haiti and deliver financial assistance to victims and their families that were affected by the epidemic.
###