Massachusetts is home to the largest population of Cabo Verdeans outside of Cabo Verde
(CAPTION: Rep. Karen Bass (D-Calif.), Defense Minister and Foreign Minister Luis Filipe Tavares, Rep. Carolyn Maloney (D-N.Y.), and Senator Edward J. Markey (D-Mass.) )
Washington (August 8, 2016) – Senator Edward J. Markey (D-Mass.), top Democrat on the U.S. Senate Foreign Relations Committee's Africa and Global Health Policy Subcommittee, led a Congressional delegation to Praia, Cabo Verde where they met with high-ranking government officials, including Defense Minister and Foreign Minister Luis Filipe Tavares, and Minister of Economy and Employment José Gonçalves.
"It was a privilege to meet with Cabo Verde's top leaders who recognize and celebrate the long and rich history Cabo Verde has with the United States, especially New England," said Senator Markey. "Massachusetts is home to a largest and most vibrant Cabo Verde population in the United States. I am grateful both for what they bring to our communities and for the opportunity they offer for a strong relationship with Cabo Verde. I look forward to continuing to strengthen the close relationship with Cabo Verde and honoring social, cultural and economic ties that are an integral part of Massachusetts's way of life."  
Additionally, Senator Markey and the Congressional delegation visited Agostinho Neto Hospital to discuss issues related to Cabo Verde's Zika outbreak and other health and health systems challenges. They also were accompanied by Catholic Relief Services and met with two mothers of babies born in June affected by the Zika-linked microcephaly. Cabo Verde has recorded more than 7,500 reported cases of the Zika virus since August 2015.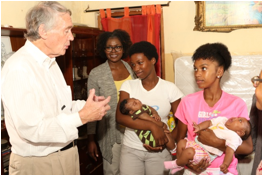 (CAPTION: U.S. Senator Edward J. Markey (D-Mass.) meets with Dunia, mother of Dara and Suely, mother of Senilson, babies born with microcephaly as a result of exposure to the Zika virus; Praia, Cabo Verde, August 7, 2016)
The members of Congress also toured the Port of Praia and visited the Maritime Security Operations Center and received a briefing.
In addition to Senator Markey, other members on the Congressional Delegation are Rep. Karen Bass (D-Calif.), Ranking Member of the House Foreign Affairs Committee's Africa, Global Health, Global Human Rights and International Organizations Subcommittee; and Rep. Carolyn Maloney (D-N.Y.).