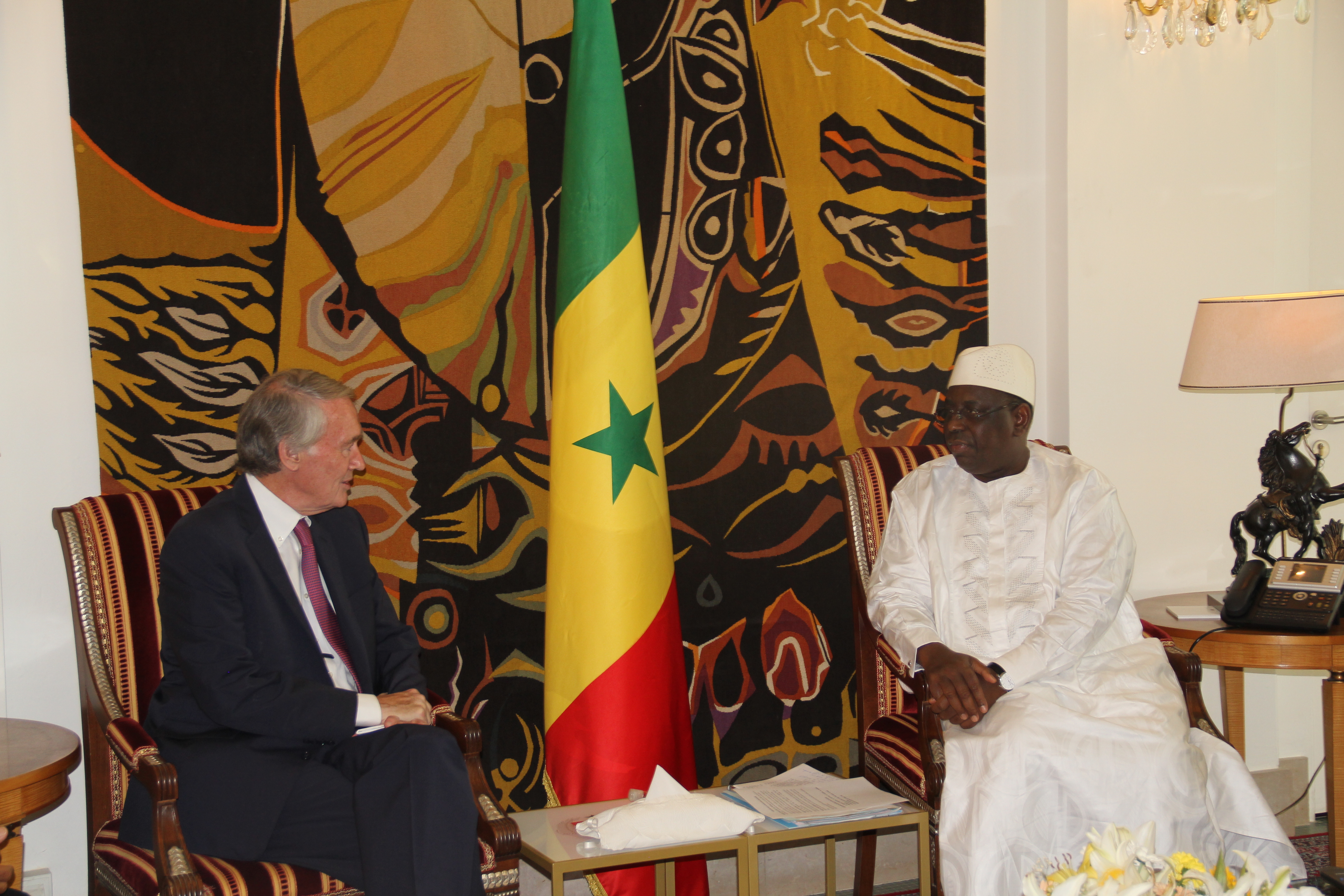 (CAPTION: U.S. Senator Edward J. Markey (D-Mass.) and President of Senegal Macky Sall)
Washington (August 11, 2016) – Senator Edward J. Markey (D-Mass.), top Democrat on the Africa and Global Health Policy Subcommittee of the U.S. Senate Foreign Relations Committee led a Congressional delegation to Senegal this week to meet with President Macky Sall. Senator Markey and other members of Congress discussed security cooperation between the two nations, as well as the critical role Senegal played as a logistics hub for Ebola response to affected countries in the region during the outbreak. 
"Senegal's democracy is a model for the region and the world," 
said Senator Markey.
 "I thank President Sall for his leadership in implementing reforms to strengthen the country's democracy and for being such a strong partner to the United States."  
Senator Markey and the delegation also met with Senegalese alumni of two Young African Leadership Institute (YALI) Programs, the Mandela Washington Fellowship and Dakar's Regional Leadership Center. The group discussed the importance of the YALI program in promoting leadership, entrepreneurship, and economic growth in Senegal as well as people-to-people ties.
(
CAPTION: First row: Senator Markey, Rep. Bass, Rep. Maloney, Ann Kambara; Second row: Ambassador Zumwalt; Third row: Omar Toure, Chief of Party- YALI RLC at the African Center of Advanced Studies in Management (CESAG); Ciré Kane, Founder/Director of Synapse Center and RLC Board Member; Fourth row: Dr. Ousmane Sene, director of the West African Research Center and YALI Regional Leadership Center Board Member)
The delegation visited the Peace Corps "Stomp-out Malaria Boot Camp" and the USAID-supported Health Hut offering an integrated package of health services to the local community of Dakar. The members of Congress also visited Gorée Island and the Maison des Esclaves, or House of Slaves, one of the world's most important memorials to the slave trade and a central part of UNESCO Gorée Island World Heritage site.
In addition to Senator Markey, other members on the Congressional Delegation are Rep. Karen Bass (D-Calif.), Ranking Member of the House Foreign Affairs Committee's Africa, Global Health, Global Human Rights and International Organizations Subcommittee; and Rep. Carolyn Maloney (D-N.Y.).