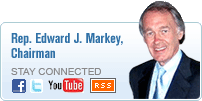 The Select Committee on Energy Independence and Global Warming addressed our nation's energy, economic and national security challenges during the 110th and 111th Congresses.

This is an archived version of the committee's website, where the public, students and the media can continue to access and learn from our work.
"Special Report: Climate Change"
This special series from New Scientist Environment addresses several pieces of the climate change issue, including melting ice sheets, carbon offset programs, and health effects.

Print This Page