About Chairman Markey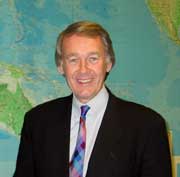 Representative Edward J. Markey, a national leader on energy and the environment, chairs the Select Committee on Energy Independence and Global Warming and the Energy and Environment Subcommittee of the Energy and Commerce Committee. Since Speaker Pelosi appointed Rep. Markey Chair in 2007, the Select Committee has held more than 50 hearings and contributed to the advancement of smarter energy and climate policies, including the first increase in fuel economy standards in three decades, which Rep. Markey authored. The newly created Energy and Environment Subcommittee will have unprecedented jurisdiction over national energy policy and play a central role in drafting energy and climate legislation in a new era of change.
Rep. Markey's career of activism and effectiveness spans three decades, since he was first elected to represent Massachusetts' seventh Congressional district in 1976. In addition to chairing key energy and environment panels, Rep. Markey is a senior member of the Natural Resources Committee. He also served for 20 years as Chair or Ranking Member of the Subcommittee on Telecommunications and the Internet and was a senior Democratic member of the House Homeland Security Committee.
In 2008, he introduced the Investing in Climate Action and Protection Act (iCAP), legislation that would slash global warming emissions and make America the leader in clean technology solutions. Introducing the first "Cap and Invest" system, iCAP would cut emissions 85% by the year 2050, set up a system for 100% auctions and invest money generated from polluters back to consumers and clean technology solutions.
Rep. Markey has long been active on energy and environmental issues, reflecting his commitment to maintaining the quality of life and economic opportunity in New England and across America. Gene Karpinski, the President of the League of Conservation Voters of the United States, has said "there is no greater environmental champion in Congress than Ed Markey as we fight to head off the looming catastrophe of climate change."

Print This Page